In 2015, the UK became the first country in the world where half of all ad spend was on digital media. Digital is everywhere now, but there is an older form of advertising that is often overlooked – offline advertising.
Sometimes marketing departments focus heavily on digital in the belief that offline advertising has had its day, but statistics show us this is far from true. Data from Warc reveals that, while as a broad category "Internet" features second for total amount of ad spend, TV is still firmly in first place. Add in other forms of offline advertising and you can see that those various mediums are still packing a punch for marketers.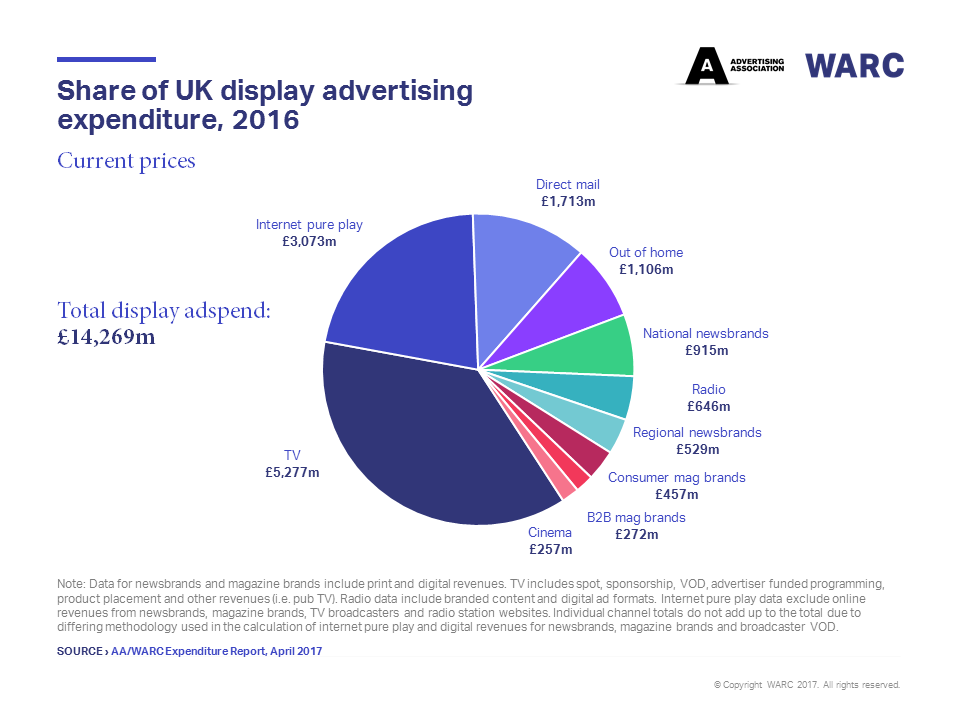 Offline advertising includes any and all forms of advertising that are not online. Think of mediums such as TV, radio, billboards, newspapers, business magazine brands and direct mail.
This type of advertising might not be for everyone, but can work well for certain industries and customer demographics. In some cases, offline advertising is so under-utilised, it provides a great opportunity to increase brand visibility with low competition.
Here are some points to consider:
Why consider offline advertising?
Online advertising can make targeting demographics easier as you can nail down buyer personas and be very specific about whom your ads are shown to.
However, there are situations where you might not get the engagement you're looking for online. What if your target audience is older or less technically savvy? In this kind of situation, offline advertising will be a must. While it is definitely less precise in terms of targeting, it might be the best option for getting in front of your ideal buyer.
Besides finding specific demographics, the fact is that a large number of people of all backgrounds are still exposed to offline advertising. Thousands of commuters use trains and buses, or drive past billboards on their way to work. 76% of video consumption in the UK is via TV, millions of newspapers are still being sold, 90% of the UK population tunes into the radio every week and recently, UK marketers have found that they get a return of £3.22 for every £1 spent on direct mail.
Offline advertising offers you the opportunity to diversify your acquisition channels and can be used across any scale. For example, you might do anything from small, local campaigns to larger national ones. In many cases, you may even find that there's little competition within your industry on certain offline channels. This also opens up the possibility of advertising that is not hugely expensive.
Does offline advertising work?
One of the challenges of offline advertising is that it's notoriously difficult to measure ROI. For example, if you take out an advertisement in a newspaper, three people see it through sharing the same copy, then two of those people go to your website to make a purchase, how will you know through which channel they were acquired?
It's increasingly incumbent on marketing executives to be able to show ROI for marketing strategies, so how can you show that any offline initiatives are worth the investment?
What we do know are some general statistics on the efficacy of offline advertising. Marketing Magazine compiled some research that showed:
Offline ads are winning the war for attention. While digital consumption has led to people skimming pages and tuning out ads, scientists have found people remember and understand print ads three times better than digital.
Most successful brands are known for their offline advertising presence. Offline ads can create the impression of luxury, wealth and a proven reputation.
TV advertising is better at driving sales than digital. At comparative total spends, TV averaged four times the increase in sales of digital.
Traditional advertising reaches real people, whereas up to 60% of digital traffic is from bots.
While ROI can be challenging to work out, it is possible, and the testing of offline ads is simple. For example, for less than £1000 you can place an ad in a relevant business magazine. Be strategic about placing your ad where you believe your target market will see it and monitor your results in terms of customer contact or sales. It's definitely a simpler setup than learning the in's and out's of PPC or search engine marketing.
In terms of tracking, you're limited to fairly rudimentary means. For example, you could include a special URL or offer code on your ad, or you could ask people, "how did you hear about us?" when they sign up.
B2B Examples
We all see many B2C ad examples on offline media every day, so how are B2B companies making use of offline ads? Here are a couple of examples:
Slack took out a full-page ad in the New York Times in November 2016 as a response to Microsoft's announcement that they were going to build a service "like Slack." This was a clever strategy to emphasise the brand and demonstrate its commitment to creative solutions to the business community.
Workfront ran a direct mail campaign after careful analysis of its customer base. They identified a number of characteristics from accounts the company had previously won, such as the type and size of the company and the types of roles they were hiring, then targeted companies who were a match, sending them floral bouquets. They also sent out Valentine's cards directing prospects to a personalised landing page.
Considerations of offline advertising
Much like any form of digital advertising, a key consideration of building an offline advertising strategy is understanding your own target audience and knowing the demographics of the audience for the specific offline media.
You'll need to do some research and get a few questions answered about each specific channel. For example:
What are the basic demographics (e.g. location, gender, race, age distribution) of the audience for this medium?
What are the economic demographics of the audience (e.g. income, occupation breakdown, industry…)?
How well does this advertising demographic match up with my target customer demographic?
You should be able to answer many of these questions by asking for an audience prospectus (sometimes called an ad kit) from whatever company is selling the ad inventory. As an example, for billboards you should receive information about the aggregate demographics of the area around the billboard, approximately how many people drive by it per day, and a sense of who those people are.
Cost
Cost is a huge variable with offline advertising. You can expect that the larger the audience, the more you will pay for advertising. An advert in a national newspaper such as The Telegraph will cost more than the same ad in The IoD Director magazine. Similarly, a direct mail campaign sent to 5000 company directors will cost more than the same mail sent to 1000 directors.
We like this suggestion from Tim Ferris, author of the 4 Hour book series:
"If dealing with national magazines, consider using a print or 'remnant ad' buying agency such as Manhattan Media or Novus Media that specializes in negotiating discounted pricing of up to 90% off rate card. Feel free to negotiate still lower using them as a go-between."
Look for UK-based media companies in your area who will also buy remnant ads. This is ad space that is currently being unused and is often sold very cheaply close to print deadlines. This is because it is otherwise worthless to the publication if the space is unsold.
Remnant ads aren't just limited to print advertising, they are available across most offline mediums, too. You just have to be flexible in terms of location and timing.
There are a few different mediums to consider when it comes to offline advertising, so let's break each one down and look at what you should consider for each:
Print advertising
[table id=20 /]
Print advertising is probably the most traditional of all forms of offline advertising. Out of all offline advertising methods, only TV is ahead of print in terms of overall spending.
Like any form of display, social or PPC advertising, successful print ads must be well-designed. This includes catchy headings, engaging copy and high-quality imagery (or at least the first two if you're running ads without images).
Newspapers – Tend to be purchased by an older demographic, so it wouldn't be the best choice if your target demographic is under 30. They are published at local and national levels and price tends to depend on circulation.
There are some ad campaigns that are uniquely suited for a newspaper setting. A few examples are time sensitive offers (like for events or sales), awareness campaigns (often as part of a larger marketing effort across multiple channels), and widely publicized announcements (like for product launches).
Magazines – These are purchased by a wide range of demographics. You'll find consumer publications (tend to have mass appeal), trade publications (cover an industry or niche) and local magazines (usually free and available in their related locality).
You need to understand the reader demographics, circulation, and publication frequency of any magazine you're considering. To get this information, just ask the magazine for its ad kit (also known as a media package, media kit, or press kit). Or, use the magazine handbook produced by the Marketing Publishers Association to find magazines that appeal to your target market.
Direct mail – Remember when your letterbox used to be full of direct mail offers? In recent years, this seems to have thinned out but marketers are rediscovering direct mail as an effective strategy. The great thing for B2B marketers is that there aren't many people doing it.
According to Lob, a company that helps to set up direct mail services, marketers are discovering that direct mail affords them better reach and flexibility than other mediums. The best strategy isn't to drop postcards to every business in the city, but to be very targeted about who receives your mail.
Here are a few tips for direct mail strategy:
Provide a self-addressed envelope to increase the number of recipients that respond (if doing a postal direct response campaign)
Use handwritten envelopes and cards to increase the chances of someone opening and reading your mailing
Include an intriguing and compelling offer
Have a clear action you want the recipient to take (visit your website, come into your store, buy a certain product, sign up for an email list, etc.)
Investigate bulk mail options with the postal service to get reduced pricing
Be memorable! There are all sorts of examples of companies who opt to do something a bit different (such as Workfront mentioned earlier, who sent out flowers)
Local print ads – These are different to newspapers in that they are paid advertising spots in local media, such as community newsletters and coupon books. They can be a relatively inexpensive way to test the effectiveness of your ads.
For businesses, you need to think about where your target audience congregates. For example, is there a bulletin that goes out to local members clubs? Do they tend to be at local co-working spaces? It may even be worth your while hanging flyers in those locations as an inexpensive way to gain some attention.
Billboard advertising
[table id=21 /]
Billboards are fairly self-explanatory, but the thing most companies will get hung up on is cost (it's hard to quantify ROI in the boardroom). The cost of billboard space depends on the size of the ad, where it is located, the number of impressions your ad can provide and the type of billboard it is. Every billboard has an advertising score, known as a GRP score (gross ratings points), based on the above factors. The number of potential impressions is based on the number of people in an area that could see the billboard: a full score means that a given billboard should reach 100% of the driving population during a month.
That last part points to an obvious downside – it's difficult for people to take immediate action when they see a billboard. If they're passing one while driving, whipping out their phone would be downright dangerous. For most companies, it's about brand visibility – if someone is driving past your billboard every day, it might compel them to find out more about you.
Transit advertising
[table id=22 /]
These are the ads you'll see on buses, trains, taxis and shelters for any of those forms of transport. The advantage over billboard ads is that you have a captive audience – they are in a position to look up your website or scan your QR code right now. Look for a media company that specialises in these types of ads.
Radio advertising
[table id=23 /]
When you purchase advertising on the radio, there are a couple of costs to consider; 1) the cost to have the ad made and 2) the cost of purchasing ad time. Longer ads or ads that play more frequently will cost you more. Ads reaching a larger audience will also cost you more.
Be clear about the demographics of listeners so that you can target appropriate radio stations.
TV advertising
[table id=24 /]
Many companies assume TV advertising will be prohibitively expensive and in many cases, they are right. Primetime slots on national channels will always be costly; however, there are ways to get cheaper advertising.
Local channels are often much cheaper, while even national channels may run ads for lower rates at off-peak times. Kevin Harrington, founder of "As Seen on TV" and widely regarded as the inventor of the infomercial got started by purchasing space for next to nothing on channels that weren't in use late at night. This isn't necessarily a good strategy for every business – it very much depends on who your target audience is and what (and when) they are watching.
Again, you need to consider the cost of making your ad too. The key to successful TV advertising is a high-quality ad, which can be pricey to have made. Once your ad is made, hiring a media buyer may be your best option for handling negotiations for ad placement and getting a fair price.
Podcasts
[table id=25 /]
While podcasts technically live within the digital world, typically listeners download them to listen to while commuting or going about their daily business, so this could be thought of as a "non-traditional" form of offline advertising.
Much like radio stations, many popular podcasts are now selling advertising space as a way to generate revenue. The key here is that you would want to target a popular podcast that has an audience that is comprised of a large enough number of your target demographic.
Podcasts are a media that is growing in popularity and seeing more of a following as quality overall improves. John Lee Dumas built a thriving business on the back of his popular "Entrepreneur on Fire" podcast, while the breakout success of podcasts, like "Serial," have highlighted the media to a wider listenership.
Podcast advertising tends to be cost-effective and best of all, gets widely heard. Listeners aren't likely to skip over advertising in the middle of the podcast because they don't want to miss the show. They also tend to trust their favourite hosts, which can help with the credibility of your own brand by association.
As for ROI on podcast advertising, it can be difficult to know whether your ad is getting traction, although some companies find ways around this, such as by offering unique discount codes to podcast listeners. Apple recently announced some iOS upgrades that will help podcasters (and advertisers). In-episode analytics will be opened up so that podcasters will know how long people are listening and where in the app listeners stop or skip.
Next steps
There are a number of ways your business can take advantage of offline advertising, although it comes with many variables. The branding potential, cost, impact, and flexibility of this channel make it a really strong one to consider when looking at how to get traction in later marketing phases.
The best approach is to understand that there is no guaranteed way to predict what will work. People have been surprised by excellent results from small publications, or equally by poor results from large ones. You will need to simply try things and see what works, but always with your target audience in mind.
Are you looking for further support with your offline advertising strategies? Click here for our guide to technology and services.
Get the latest articles
Content from industry experts, delivered straight to your inbox - as soon as they're released.