How well do you know exactly who your business is selling to?
How would you rate your current levels of engagement and audience appeal? If your feeling is that you could do better, taking the time to develop detailed buyer profiles for your target audience may be the game-changer you are looking for.
Buyer profiles help you to hone in on exactly who your audience is, what makes them tick, their goals, lifestyle and any problems they may have. Knowing all of this helps you to craft your content and messaging so that it is designed to appeal to those who are your target customer.
Here's why we feel that creating detailed buyer profiles should be a priority for businesses:
Why create buyer profiles?
When you cross paths with a new product or service, how quickly do you judge whether that offer is actually something for you? Studies tell us that we only take seven seconds to form a first impression, which means that the content you see had better grab your interest quickly.
If you think about your experiences, the chances are that if you don't perceive the product or service to be of relevance to you, you'll move on fairly quickly. Who has time in this information-overload world, right?
This is why when you do any kind of marketing for your own business, it is vital that you have a good understanding of exactly who you are targeting. Trying to use cover-all messaging in an attempt to meet everyone can mean that you don't appeal to anyone.
A person who sees any of your marketing campaigns or content should understand within seconds if it is something that appeals to them. The expression "a confused mind never buys" explains one reason why your content has to be straightforward. But, you should also consider that a customer probably won't buy if your marketing is bland or simply doesn't grab them.
For marketers, buyer personas help guide them with tone of voice, messaging and value propositions to appeal directly to the target customer. A major issue that accurate buyer personas can help you to gain is trust. The marketer should know what or who the buyer is influenced by, what they base their decisions on and, conversely, what is likely to turn them off.
Segmentation
The basis of any good marketing campaign is to know your audience and have the right offer for them. A powerful strategy is to segment your customers so that you can produce targeted campaigns or content.
Most businesses will have more than one buyer persona among their target market. Understanding these will help you create marketing campaigns that hone in on the specific persona, which is a far more effective strategy than something that is general.
Another bonus from this is that you can get a very good idea of what you should be prioritising next in terms of product roadmap and features. It's all down to understanding the priorities of your customer segments.
Application across your business teams
Buyer profiles are not just the domain of marketing, they can be useful across other teams within the business, too. For example:
Product teams – Product managers, developers and designers will be able to understand which specific features different customer groups are looking for, the value being provided and the price they're willing to pay.
Customer support – The more customer support understands about the needs and goals of customers, the better. This will help them to build rapport and provide better service to customers.
Sales teams – Sales people will be able to better speak to your prospective customers needs and problems. This will enable them to build trust faster, and ultimately close more deals.
Management team – Anyone who might have oversight of the business or be in a position to request certain courses of action should always have the customer in sight. If you've ever worked in a position where a manager suddenly wanted priority given to a pet project that you knew probably wouldn't work for your customers, you will understand this. Key decisions about the direction of the business should consider the target customer because they are always the bread and butter of the business.
What do buyer personas look like?
You'll find a number of different preferences for how to create buyer personas out there, as they go from quite basic to very detailed. The idea is that you gather demographic and psychographic information, along with details such as job roles, goals, problems and obstacles. Below are a couple of examples created by Theory on behalf of Virgin Media: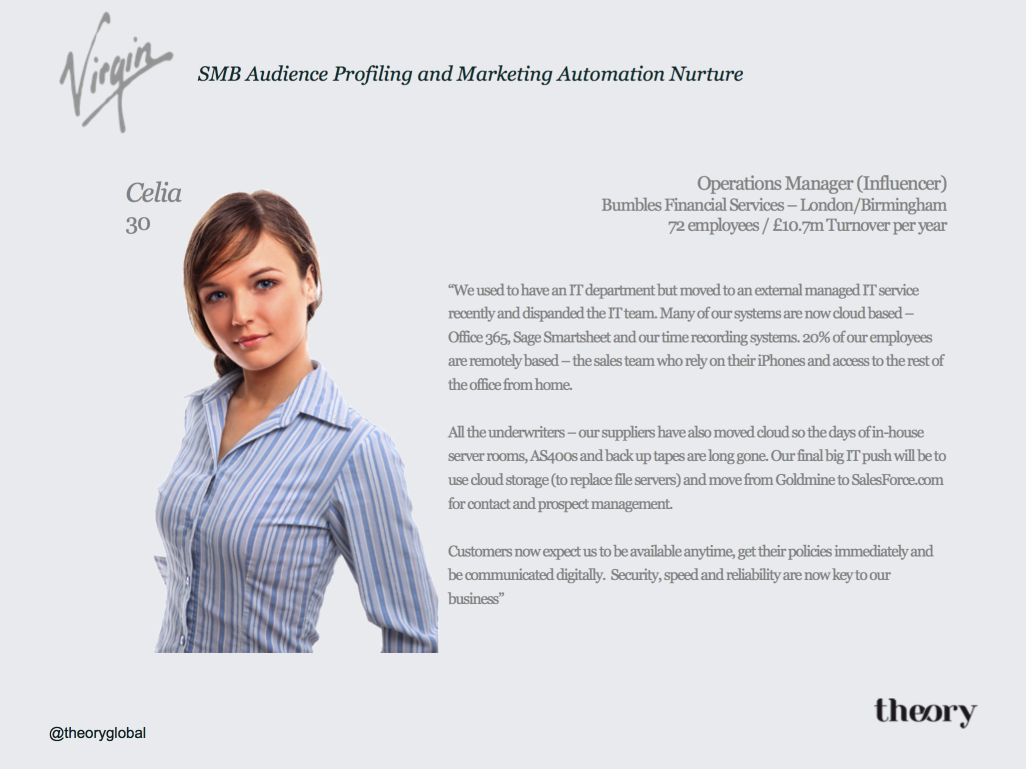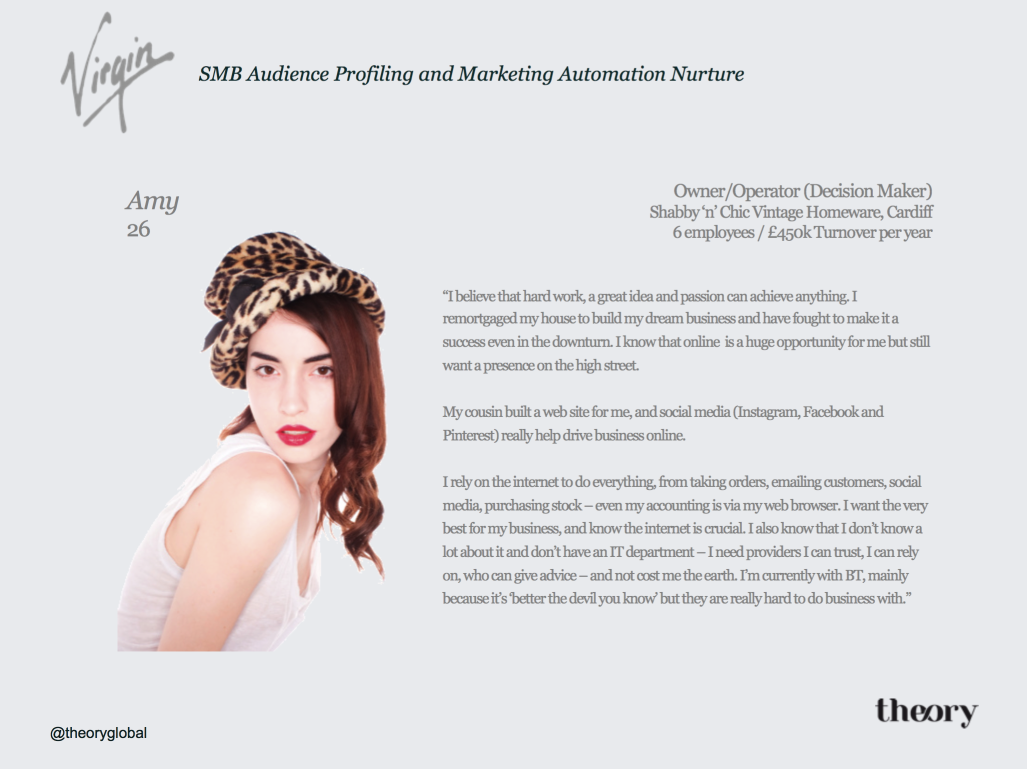 This next example is a fictitious buyer persona created by the Buyer Persona Institute. Note: the example buyer persona for Amanda is extremely detailed. For additional information you may wish to download this PDF or view the video that explains this persona in detail.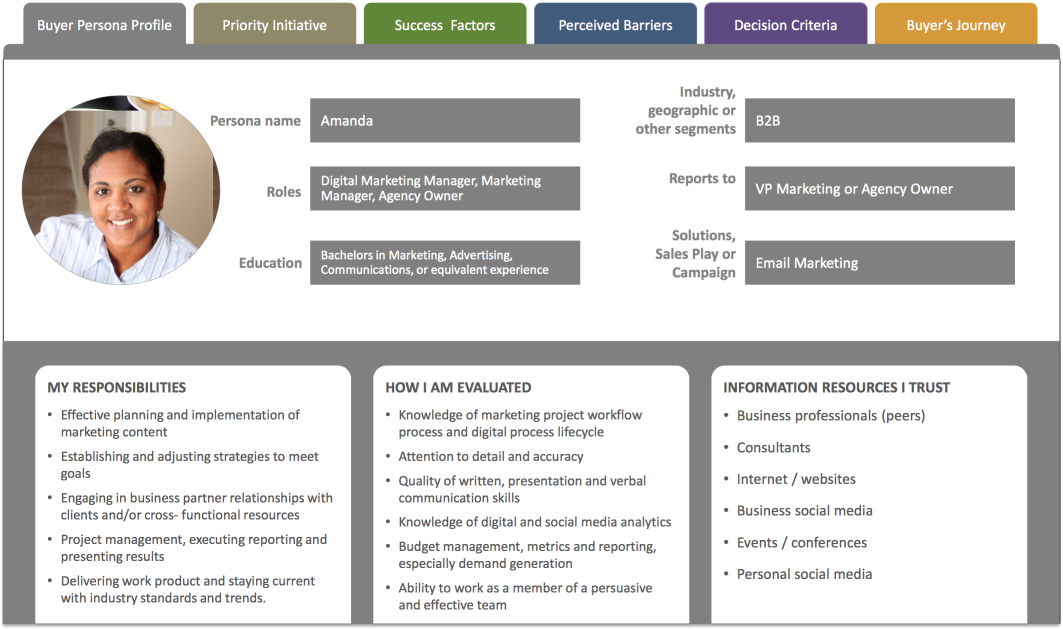 Some suggestions for buyer profiles
Creating effective buyer profiles takes some forethought. The more accurate the persona, the more use it will be for guiding the work of your teams. Here are a few tips for creating and maintaining buyer profiles:
Buyer profiles should be living documents, updated regularly as your company continues to learn.
The best customer personas are based on having actual conversations with your customers.
Involve your customer-facing team members in the creation of buyer profiles. This might include sales and customer support team members.
Remember that a goal should be to find out how you will obtain the trust of the customer. The example profile of "Amanda" above highlights this with a section entitled "Information Resources I Trust."
Consider "negative" personas, too. If there are personas that are ideal for your business, there must be others that aren't. For example, perhaps your product isn't advanced enough for some personas or will be too expensive for others. It's helpful to recognise these so that team members will know the signs of a customer they shouldn't be onboarding.
Consider other data points you might have at your disposal that may be useful for creating your profiles. For example, you might be capturing information about job titles, interests or company size on a webform or you might have a database that tells you who is consuming what content and when.
Consider bringing your personas to life by incorporating and embedding videos of real customers talking about their business challenges. Also consider embedding oversized quotes into your personas to enliven them.
"You'll learn more in a day talking to customers than a week of brainstorming, a month of watching competitors, or a year of market research."

– Aaron Levie, Co-Founder and CEO, Box.com
Your buyer profiles are really a basic activity for good customer research. Ideally, your company will complete these, as well as go into some more in-depth research using "jobs to be done" methodology. Completing both of these activities will help you to engage more meaningfully with your clients.
How Digital Elite can Help
We can help you to create detailed, useful customer personas for your business. Here's who we'd need to speak with to get started:
10 to 20 of your best customers
Your sales team
Your management team
Contact us here to discuss how we can help your business.
Get the latest articles
Content from industry experts, delivered straight to your inbox - as soon as they're released.